About the Artist
Howard Geer Hudson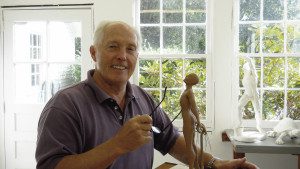 Howard Geer Hudson began his art education at the Loomis School in Windsor, Connecticut. At Loomis he studied in the studio of noted sculptor Evelyn Longman Batchelder with painter Sanford Low, who served for years as Director of the New Britain Museum of American Art. Upon graduation, he received the Loomis School Art Award.
A football player at Princeton, he studied for four years with the renowned sculptor, Joe Brown, a boxer turned artist who he met in the school's boxing program. Joe Brown is regarded by many as the pre-eminent sports sculptor of his time. He declined Professor Brown's offer to remain at Princeton as his apprentice, but over the years continued his modeling education, with particular emphasis on human anatomy and figurative sculpture.
After a stint as a professional ambulance driver and then, Marine Corps reservist, he began a career in finance. During this time his love of sculpture never left him and retirement from the bond market has afforded him the opportunity to devote full time to doing what he likes best.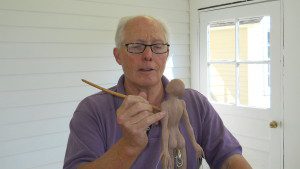 He exclusively models in clay and casts in bronze. Much of his recent work has been cast at the Bronzart Foundry, located in Sarasota, Florida and can be seen on their website as well. His subjects are varied, but generally emphasize the human form.
Figures engaged in vigorous activities are favorite subjects, so his work often involves athletics. "Capturing the energy of a situation and building in the anticipation of results is usually my objective. I am most gratified if I can evoke recognition of the message and a positive response from another person. "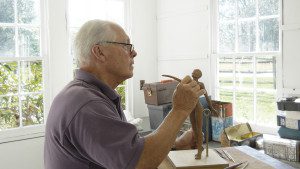 His work has been shown in a variety of venues, including the annual "Art To The Avenue" show in Greenwich, CT, the Lighthouse Art Center, in Jupiter Florida, where two of his bronzes, "Cliff" and "Warrior Game", were awarded first place ribbons. A copy of "Warrior Game" was selected as the annual MVP award for the lacrosse program at Bryant University in Rhode Island, and is displayed in the lobby of their Chace athletic center.
Home | About the Artist | Gallery | Contact